The best destinations in Klungkung Bali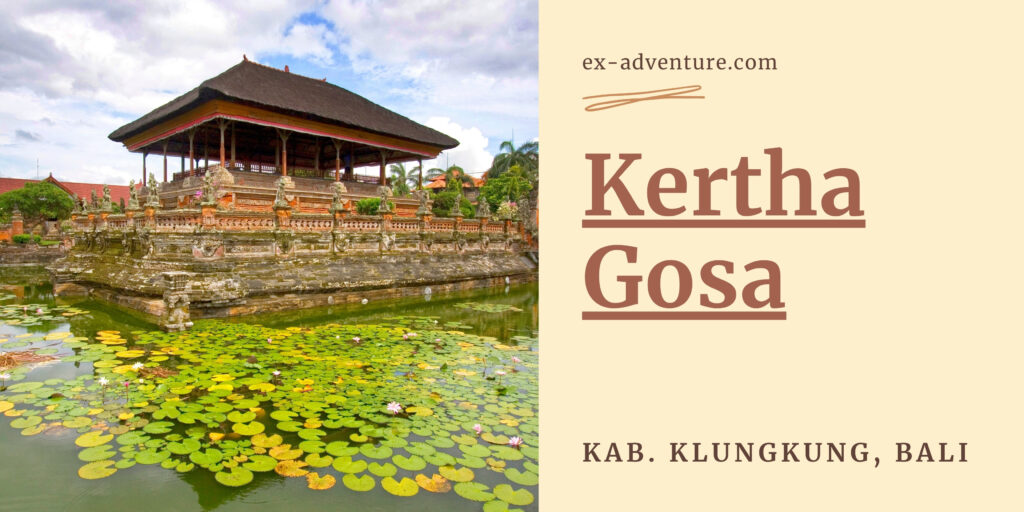 Kertha Gosa
Welcome to Kerta Semarapura Gosa in Klungkung Bali
is one of the famous tourist destinations in Bali and many visited by tourists every day.
Kertha Gosa is located in the heart Semarapura and the name was taken
from Sanskrit which means Peace Kertha and Gosa from Gosita means announcement.
Thus, the meaning of Kertha Gosa is a building in the form of Bale for the king
who serves as a place to announce the legislation, jurisdiction, penalization etc.,
Kertha Gosa building is very unique and full of high artistic value, so this place is a unique place for visit in Bali.
Kertha Gosa is in place to Visit in Bali
As a former kingdom, fair if Klungkung has many relics which is now a tourist attraction.
One is the Taman Gili Kerta Gosa, Klungkung Semarapura cultural heritage palace.
Kerta Gosa is a building (Bale) who is part of the palace complex of buildings Semarapura and has been built around the year 1686
by the founder of the first holder of the throne of power and the kingdom of Klungkung Ida I Dewa Agung Jambe.
Gosa kerta consists of two buildings (bale) that Gosa and Bale Bale akerta Kambang.
History
Called Kambang Bale because the building is surrounded by a pond that is Taman Gili.
Uniqueness Kerta Gosa with Kambang Bale is on the surface of the ceiling or ceiling bale is decorated
with traditional paintings of Kamasan style (a village in Klungkung)
or puppet style that is very popular among the people of Bali.
At first, the paintings that adorn the ceiling of the building was made of cloth and parba.
New since 1930 replaced and built on top of the plasterboard
and then restored to the original picture intact until now.
As cultural heritage palace Semarapura, Kerta Gosa and Bale Kambang
enabled to hear the case and place where religious ceremonies are
especially ya cutting teeth (mepandes) like sons and daughters of the king.
Kerta Gosa was also once functioned as a court hall that during the Dutch colonial bureaucracy in Klungkung (1908-1942)
and since the appointment of indigenous officials became head of the kingdom of Klungkung
(Ida I Dewa Agung Klungkung State) in 1929.
In fact, the former supplies the court in the form of chairs and tables carved wood and paint wear prade still there.
The objects are evidence of indigenous heritage of traditional
institutions such as the courts ever apply in Klungkung in the colonial period (1908- 1942)
and the period of Japanese occupation (1043-1945).
In 1930, the restoration of a painting ever done puppet contained in Kerta Gosa and Bale Kambang
by the artists of Kamasan painting.
Restoration of the last painting done in 1960.
(Visited 16 times, 1 visits today)